Commercial Air Duct Cleaning
Commercial Air Duct Cleaning In Houston
In the fast-paced world of business, the air quality in your commercial spaces should not be overlooked. At Reliable Air Duct Cleaning Houston, we understand that clean air is not just a comfort, it's a necessity. Our commercial air duct cleaning service ensures that your work environment is clean, healthy, and conducive for both employees and clients. Utilizing the latest equipment and experienced technicians, we bring top-tier service straight to your door, mitigating potential health risks associated with poor air quality.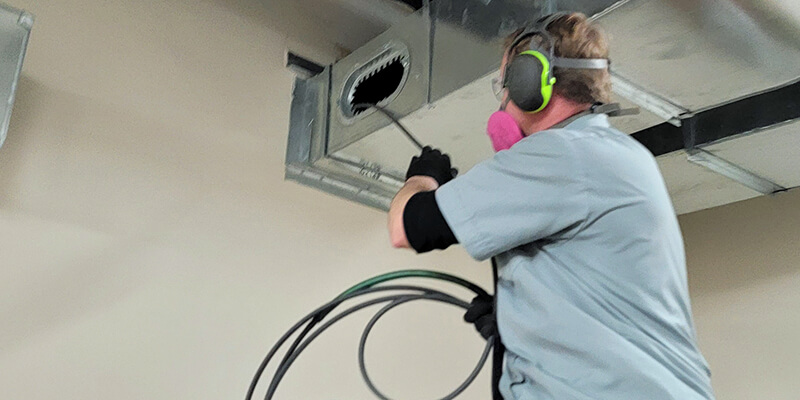 Commercial Air Duct Cleaning in Houston, Texas
Reliable is the trusted name for commercial air duct cleaning in Houston, TX. We've built our reputation on providing high-quality services tailored to the unique needs of each business we serve. From office buildings to retail spaces, our team tackles all kinds of commercial ductwork. Our professional approach ensures your air ducts are thoroughly cleaned, minimizing allergens, eliminating odors, and improving overall air quality.
Our services include:
Why Choose
Reliable Air Duct Cleaning Houston?
Eliminate Hazards with Our Debris Removal Service
Is your workspace plagued by airborne debris, compromising the air quality? We can help. Our Debris Removal service ensures your air ducts are free from contaminants that may affect your team's health and productivity. We employ high-grade equipment and innovative techniques to extract all foreign elements. Cleaner air ducts mean less dust on surfaces, reducing cleaning time and costs. Are you ready for a cleaner, healthier workspace? Schedule our debris removal service today!
Improve Health with Indoor Air Quality Improvement
Did you know that indoor air can be more polluted than outdoor air? Don't let your business become a hotbed for allergens. Our Indoor Air Quality Improvement service is designed to tackle this. We meticulously clean your ducts, reducing allergens and pollutants. As a result, you can expect a reduction in sick days and an increase in productivity. Don't compromise on health. Contact us now and breathe easier in your workspace!
Have a rental home in Houston, TX. I call Reliable and the office there was very helpful with the scheduling process as well as taking care of my tenants. They did a great job cleaning my carpets there, even emailed me photos of the carpets after cleaning. I recommend them.